To install MxHero for Outlook 2.0 follow one of the options below. Note, your installation options will depend on your user credentials.
Prerequisites
To use this plugin you will need a modern version of Outlook for one of the supported platforms (Windows, Mac or Web) or an up to date web browser if using Outlook Web Access.
Outlook for Windows 2013 or better
Outlook for Mac 2016 or better
Outlook Web Access (OWA)

MS Edge
IE 10 or better
Chrome
Configuration URL
For the manual installations described below, the MxHero for Outlook installation URL is:
https://outlook-addin.mxhero.com/manifest.xml
You will need to copy and paste this URL following the instructions below.
Manual Single User Installation
To manually install the plugin you can copy and paste the above url into Outlook's Web Add-in configuration pane. This will add the plugin to your desktop Outlook application as well.
Access your web based Outlook (e.g. Office 365 portal or Exchange OWA)
Click on "Settings" and select "Manage add-ins"
Click on add "+" and select "Add from a URL"
Paste the URL in the URL field (see URL above)
Logout of Outlook and log back in or ...

If using desktop Outlook, close Outlook and open again. Look for the Mail2Cloud plugin in the ribbon bar (see image below)
After closing a reopening Outlook, you should see the Mail2Cloud button in the Home ribbon bar: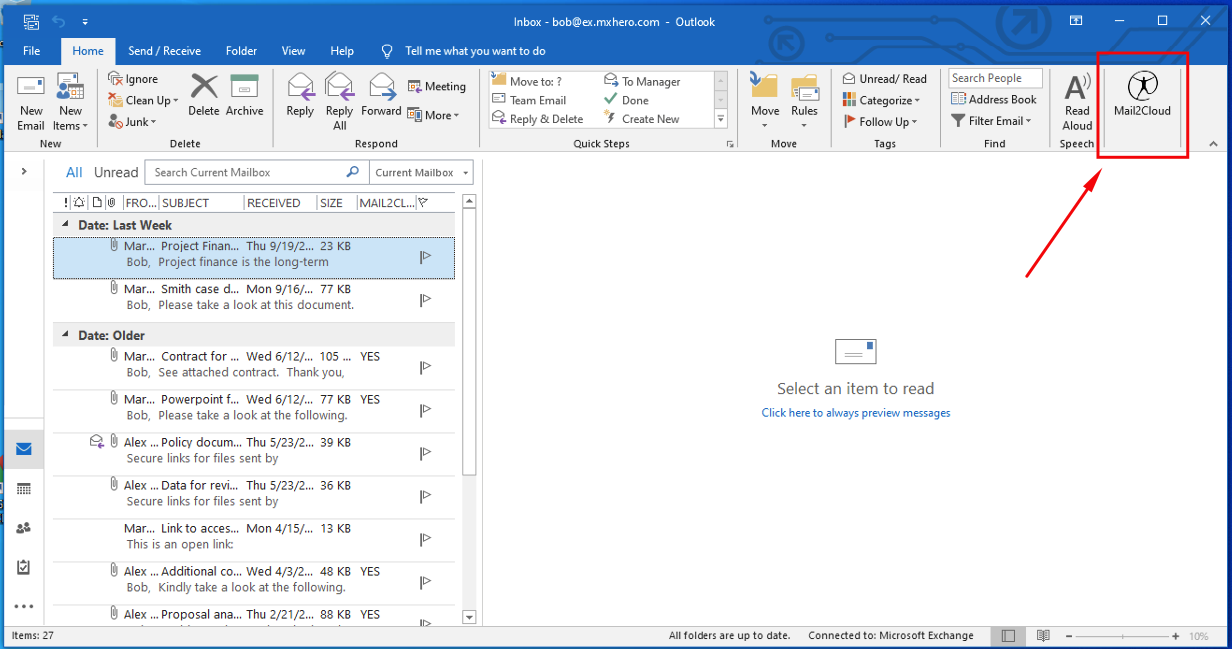 Automatic Single User Installation
This option will be available in late October 2019. To automate the installation process, you can install the MxHero add-in directly through the Microsoft app store.
Multi-user Installation
The plugin can be deployed to multiple users via the administrative interface of Exchange or Office365. You will need administrative access to the Exchange or Office365 admin panel and the provided installation URL (see URL above).